The bedroom is a fundamental space for rest, since it is the most intimate and personal room. Whether big or small, you have to make the most of it, the most important thing is that it be practical and functional, without sacrificing style. Here are our best ideas to make your temple a dream bedroom!
1. The bed, first and foremost
The most important and visible piece of furniture in a bedroom is the bed. A good mattress is the first thing to keep in mind to get that rest that we seek so much after a long day.
Having a larger bedroom does not mean that the furniture also has to be larger orthat you need to fill it with more furniture. You can invest in space according to needs or tastes. Like, for example, placing the bed against the wall leaves us a larger space that can be used for a desk, a dressing room, or a cute space for reading…
In small rooms we think that choosing a small bed is the right option, but what if instead of a small one we use a shorter one? The key is to choose one that has small, skinny legs, so it will allow air to continue to circulate underneath.
Headboard
It's all a matter of organization, if you make good use of the space you can get a good headboard that occupies just enough space whilst adding a fun differentiating touch. As an alternative, you can also use a box that can act as a headboard.
2. The nightstand: Where else are you going to leave your favorite book?
Keep in mind that the nightstand is a secondary element, but it will dress up the bedroom and the bed much more. So in this way we will have everything we need by our side before we hit the hay.
There are many bedside tables available, we are sure that you can find one that fits the space and style of your room.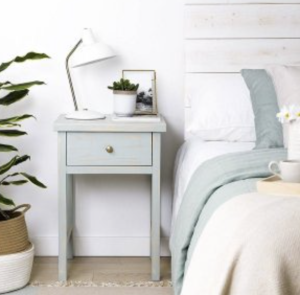 3. Light and colors
The light in a room can be determined by many bulbs. You have to play with them to be able to create "mini-ambiences" within the same bedroom. You can play with the windows and orient the furniture to get the most effective lighting in the room, and avoid blocking the entry of light.
These are some objects that allow us to play with light:
Mirrors are good allies for those smaller and darker rooms. If there is already natural light, it reflects it to more points in the room; if there is not too much light, it multiplies it.
The lamps give us that dim light that illuminates without dazzling, from the lamp on the nightstand to the ceiling lamp.
The curtains, in charge of sifting the light and grading it, provide us with privacy.
Say yes to white! All the sensations that a person perceives through the sense of sight can have an effect. White is the color of perfection, which encourages reflection and innocence. It is a symbol of openness, tranquility and peace, just what we are looking for when entering our bedroom.
4. Textures
Color is not the only important thing in the decoration and the visual effect of a bedroom, textures can also add a different value. You have to play with the lightest textures that allow us to obtain a light vision, betting on sheets with sheer fabrics and light textiles and then adding cushions with decoration or other textures.
Now in winter, take the opportunity to give a touch to the room with the use of blankets. They can be placed folded on the couch, in a basket next to the bed, or on top of the bed as part of the sheets. During the summer replace your blankets with plaids, lighter and softer blankets. They are elements that provide texture and color with an infinite number of ways to take advantage of them.
5. Organization of furniture, remove obstacles
Tidiness is essential in any room; but in a small room it is essential to get the most out of it. Even so, don't overcrowd a room, whether it is small or large.
Find the perfect space to place some drawers, a closet with enough storage, drawers under the bed… many options to make the passage into the room easier!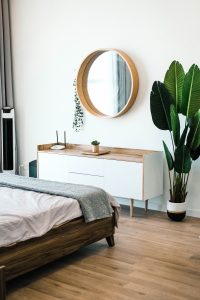 6. The same style of decoration, create harmony with your living room
We know that the bedroom is that temple of rest that we need so much, just like the first room we find ourselves before: the living room. Find out how to decorate for a modern living room by visiting our blog the 7 best ideas for a modern living room.
As you can see, there are several aspects to creating a dream bedroom. Get to give more value to your apartment by following these steps. Do not hesitate to contact our AB Apartment Barcelona team to maximize your income with the rental of your apartment in Barcelona.